Member Only Item
Pre-Order Now For 2015 Release Date
Tom Clancy's The Division Xbox One Video Game
Item #905953
Features:
Release Date: 2015
Rated: RP - Rating Pending
Category: First-person Shooter
Publisher: Ubisoft
This title is scheduled to release in 2015 and will ship as soon as it becomes available. To ensure delivery on the release date please choose express delivery at check out.
A devastating pandemic sweeps through New York City, and one by one, basic services fail. In only days, without food or water, society collapses into chaos. The Division, a classified unit of self-supported tactical agents, is activated. Leading seemingly ordinary lives among us, The Division agents are trained to operate independently of command, as all else fails. Fighting to prevent the fall of society, the agents will find themselves caught up in an epic conspiracy, forced to combat not only the effects of a manmade virus, but also the rising threat of those behind it. When everything collapses, your mission begins.
Total breakdown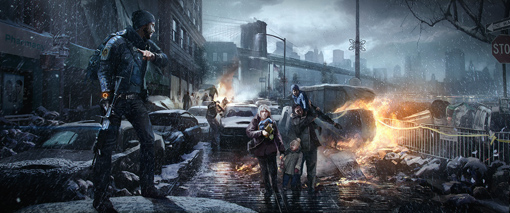 We live in a fragile and complex world, a web of interdependent systems we rely on every day. When one fails, others follow, creating a deadly domino effect that can cripple society in days. In Tom Clancy's The Division™, immerse yourself in a frighteningly chaotic and devastated New York City, where all has failed. As a Division agent, your mission is to restore order, team up with other agents and take back New York.
A new take on the Clancy series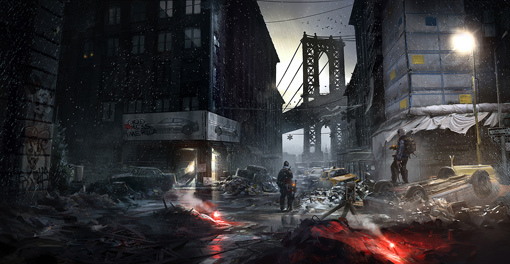 Welcome to an online, open world RPG experience where exploration and player progression are essential. Use your skills, weapons, and wits in combat. Play in a persistent and dynamic environment that combines the Tom Clancy™ series' core authenticity and tactical decisions, RPG action, trading, and much more.
100% social
Team up with friends in co-op, jump in and jump out at any time and use your combined skills to fight the crisis, investigate the sources of the virus and engage all threats… Even your own citizens. Seamlessly engage in PvP, player-to-player trading, and experience suspenseful scenarios where danger can come from anywhere and anyone.
Only on next-gen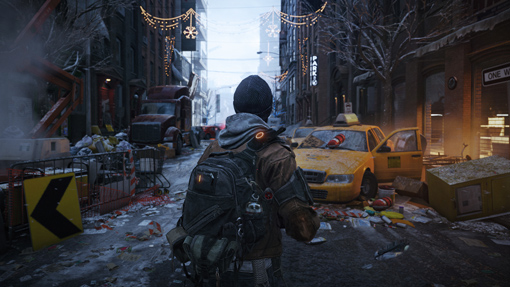 Powered by our new game engine Snowdrop™, tailor-made for next-gen consoles, Tom Clancy's The Division achieves a whole new level of gameplay quality. Snowdrop takes full advantage of the new consoles with dynamic global illumination, stunning procedural destruction, and an insane amount of detail and visual effects.
Gear up and live your own adventure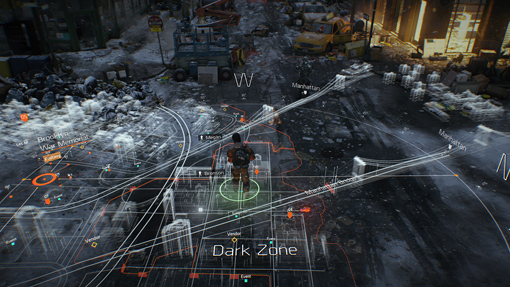 As part of The Division, harness state-of-the-art technology: both networked and prototyped. Loot fallen foes and craft new, improved gear. Completely customize your go-bag, an agent's only supplies in the event of collapse, and communicate with the other agents at all times with your smartwatch. Customize your agent with thousands of weapon types, skill combinations, gear, and much more. The choices you make can help forge a recovery or plunge the city deeper into chaos.
Revolutionary companion gaming
On your smartphone or tablet, join your friends in real-time gameplay with exclusive characters. The app gives you a bird's-eye view of the battlefield, the ability to attack enemies, and to place targets for your allies or enhance their capabilities.
Brand:

Ubisoft


Video Game Genre:

First-person Shooter


Video Game Platform:

Xbox One


Video Game Rating:

RP (Rating Pending)

Standard shipping via UPS Mail Innovations is included in the price.
The estimated delivery time will be approximately 5 - 7 business days from the time of order.
This service is a combination of UPS and USPS shipping. Packages are delivered by USPS. Packages can be tracked at
upsmi.com
. Additional transit time may be required for Alaska, Hawaii and Puerto Rico.
Express shipping is via UPS.
The estimated delivery time will be approximately 2 - 3 business days from the time of order.
Please choose your shipping method at checkout.
An additional Shipping and Handling fee will apply to express shipments. This fee will be quoted at checkout.
Costco.com products can be returned to any of our more than 600 Costco warehouses worldwide.
How to Return: For an immediate refund (including shipping and handling), simply return your purchase at any one of our Costco warehouses worldwide. If you are unable to return your order at one of our warehouses, please email customer service or call our customer service center at 1-800-955-2292 for assistance. To expedite the processing of your return, please reference your order number.
If you request an item be picked up for return, the item must be packaged and available for pick up in the same manner as it was delivered. If your order was delivered "curb side", it will need to be available for curb side pick up.
If the item arrived to you in a box, it will need to be in a box at the time of pick up.
View Costco's Return Policy.

For information or a written copy of the manufacturer's warranty, please contact us at: warranty@contactcostco.com.
Please wait, the reviews should load in just a moment.